Client Services
·
Multiple locations
·
Fully Remote
Digital Project Manager
We're looking for a Project Manager, who has good experience in Digital Marketing projects & familiar with enterprise clients.
We usually respond within three days
Position title: Digital Project Manager

Department: Client Services
Report to: Client Services Manager
Direct report: N/A
Days/Hours: M-F/40 hours/week
Employment type: Full-time if you live and work in Australia with an AUS tax number. Contractor If you're outside of Australia and don't have an AUS tax registration number. Please see the difference in our FAQ.
Remote/On-site: Fully remote, you can work from anywhere in our targetted timezones.
Targeted timezones/locations: GMT+7, +8, +9, +10, +11, +12 
Note: only people within the targeted time zones/locations are processed.
---
Why does this role exist?
We were recruiting an Account Manager for this role. Still, after a while, we realized that to maximize the efficiency of each project, we need an account manager who is good at project management, so this role is a hybrid of an Account Manager and a Project Manager.
Where does my role fit?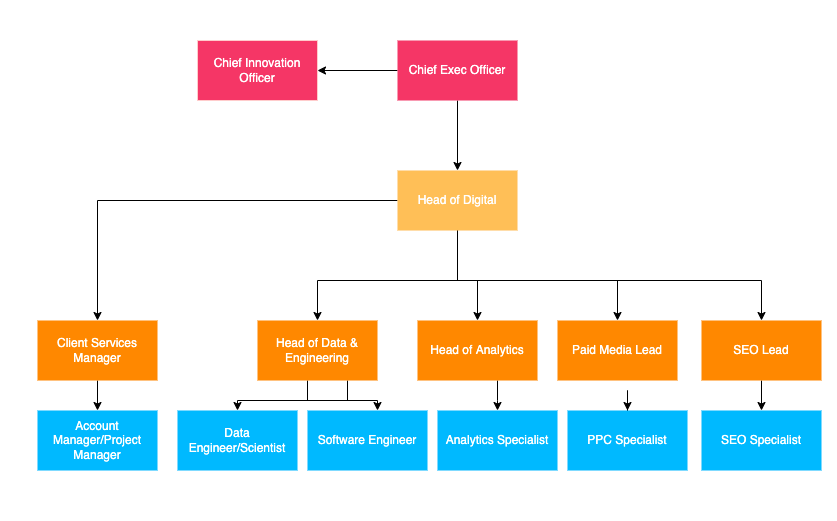 What I am accountable for?
In this role you will be required to develop and service relationships with key clients based in Australia, working along with a talented digital marketing team.

You will ensure the successful delivery of client projects on time and on budget via effective communication, achievable workload management and impeccable project and task management.
This is a project management position, not a hands-on digital marketing position, but a good understanding of Digital Marketing is required, that knowledge will help you to:
Manage several medium to large accounts, creating, owning and driving key deliverables including Statements of Work, project timelines and monthly status reports
Collaborate with the technical team (SEO, PPC, Analytics & Data) members to create digital strategies for your clients
Work with operations and traffic to schedule project work
Manage and monitor commercial indicators for your accounts, including workload for all delivery team members to meet KPIs
Ensure client expectations are clearly defined and properly managed
Run internally focussed status updates, WIPs and scrums
Project management during the project lifecycle to ensure on-time completion of deliverables, managing change requests and scope increases appropriately
Troubleshoot and overcome project roadblocks
Communicate early and effectively with all stakeholders on possible hurdles, and drive effective communication to reduce the risk of delays/failures
Review work before client delivery to ensure it meets the brief and the expectations
Lead client meetings, reviews and planning sessions
Develop client relationships and identify opportunities for account expansions and new workstreams
How will I be measured?
Client Retention >85% retention
Generate growth> 20% of current base
Client Satisfaction (cNPS)>55
Financial perf. Recovery rate >100% every quarter
Deeper relationships. Min 3 meetings w/ senior company officers per quarter
Driving successful IMWT delivery projects that meet client business objectives (notwithstanding unavoidable blockers).
Who do I need to work with?

For each project we form a team called a Pod, each Pod has a Pod Leader (Account Manager/Project Manager), and 1-2 specialists. That means you're going to work with our specialists daily.
This role requires heavy client-facing meetings, with the involvement of the client's Internal Marketing team.
You will report to the Client Services Manager on a weekly basis.
What knowledge and skills do I require to be successful?
3+ years of experience with professional-client relationship management
Digital Marketing and/ or Digital Analytics experience
A good understanding of digital marketing (SEO, PPC, Analytics)
Experienced managing enterprise clients
Exposure to a range of project management methodologies, and demonstrable experience in implementing those methodologies and using appropriate PM support tools (Trello, Teamwork, Basecamp, Jira or similar for project management; MS Project, Smartsheet or similar for project timeline planning; Float, 10kft, Monday or similar for workflow planning)
Demonstrable ability to multitask
Demonstrable risk reduction methods and problem-solving skills
In-depth knowledge of online marketing tools and technology
Impeccable communication and people skills
Strong analytical skills
Can work under pressure with strict deadlines
Note:  Researches show that those in underrepresented groups (Women, people of colour; people with disabilities; people in LGBTQIA2S+ and more) typically don't apply for jobs unless they tick all the boxes. Don't be, we recommend you to give yourself a chance!
What's in it for you
Fully remote policy (if you're a traveller, a mom who wants to spend more time with the kid, living too far from the city centre, or you just simply love working from home, then you'll love it here).
Flexible working hours; we don't have clock-in/clock-out times.
21 paid leaves/year for FT and PT employees.
Annual conference (TrustedConf), we fly our team to an exotic location and enjoy a week of working together.
Strips for our internal parties (we can't buy the food for everyone, but we can offer you a refund for your expenses).
A modern office in Sydney for people who wish to come.
We rarely work overtime, work-life balance is our culture.
A team of Seniors Specialists in the industry who can support & grow each other.
All FT and PT team members at IMWT are entitled to 1 hour per week towards self-development aids and courses, and each year we have a Self Development Plan for our members.
The Company
We are a Digital Marketing and Analytics Enterprise, and we are very good at Analytics, SEO, CRO, and Data Science. Find out more about our services

Our motto: Traffic is nice. Revenue is better.
We have the most fun working in competitive environments, and our primary sectors by revenue are online travel, technology SaaS, e-commerce, finance, education and many more.
We strive to be an extension of our client's team and provide tailor-made, return-focused work.
We are picky about the clients we bring on board and very protective of our reputation. We won't engage with a firm unless we believe we can make a difference in their business and help them Get Stuff Done!
This keeps us focused on taking on exciting projects, which motivates us to bring the best of our game and build lasting relationships with our clients.
We think the current agency model is broken, and we really believe we can build a better alternative. But we need great people to help make this happen, and that's where you come in!
We are a bootstrapped company, we grew exponentially in the last few years and now seat 60 people working with us.
We are built to be remote from day 1, but if you want to say 'Hello', our office is 78 meters from the beach in Sydney. Make sure you bring your swimwear!
Let's meet Leti, our Digital Project Manager, to see her typical working day
Department

Role

Digital Project Manager

Locations

Multiple locations

Remote status

Fully Remote
We usually respond within three days
Contact
EL Phan
Talent Acquisition Specialist – Operations
Goals and Values
At IMWT we take our values and culture seriously. From the beginning, we're clear about our philosophies and how we work.
We don't engage in high-pressure sales tactics and we respect that potential clients make decisions at their own pace.
About In Marketing We Trust
In Marketing We Trust is a global team of experts, working together to solve tough marketing challenges.
Already working at In Marketing We Trust?
Let's recruit together and find your next colleague.